We've entered the FedEx Small Business Grant Contest but we need your vote to win!
What if you could come out to the farm, give the goats scratches & pick some apples or berries? What if you could give the chickens snacks & take a hay ride out to pick your fall pumpkins and mums? What if more goat yoga was happening? What if we got our hands on a building in town for farm fresh meals? We have big dreams for the land we are on and it's been hard to have to pick and choose what was doable with limited finances.
We've had to only focus on growing certain smaller areas of our big picture so that things stay sustainable and in budget with our meager profit margins. Farming is HARD work and it's NOT CHEAP at all but we always find solutions and workarounds. This grant would change everything for us!
Many farmers have inherited family land or worked for their share of an already established operation. Some of you know, we are first generation farmers, meaning we are starting 100% from scratch with our operation. We've put in our time garnering experience from others, we have land and we're ready to go big now. Want to help? Click here to vote.
Our big picture dream has always been Agritourisim. It's farming while also connecting customers to a bigger experience. We believe this is key to helping folks reconnect with their food. Goat yoga and our farm open house events lead into this as does our mum and pumpkin production.
Winning this grant contest would mean we can finally afford to put in our orchard trees, to stock our bee hives, to finish our rotational grazing fence project, get a tractor for orchard and pasture work and to upgrade our product packaging.
Could you spare a second to give our #familyfarm your vote in this grant contest? And share it with others? Every share of our story and vote makes a difference. You can vote daily too! Click here to vote.
ABOUT US
We are The Ryder Family Farm, a first generation farming family in Southern Illinois. We're transplants from the vast deserts of Arizona who left corporate jobs to pursue farming and self sufficiency many years ago. Nathan is a former TV Anchor & Reporter who later went on to work digital media & public relations for a major area theme park. Talina is a vocal and dance performer with an extensive work history in hospitality finance, food service management and special events catering. After becoming parents in 2009 we found ourselves growing much of our own food and yearning to expand.
In the summer of 2014 opportunity came knocking. Nathan quit his corporate job and we left big city life to live on a large working family farm in Southern Illinois. For several years we learned as much as possible working as farm hands while also pursuing our own farm endeavors on the side.
In 2017 we set off to build our own farm just a few miles outside Golconda, Illinois, in the heart of the Shawnee National Forest. we're in the very beginning stages of physically building our family farm up with borrowed tractors and implements as we slowly and sustainably grow the local farm operation.
We focus on selling our goods directly to our community, unlike many area farms. Did you know only about 8% of U.S. farms market food locally? We believe locally raised food is fresher and healthier for consumers and continue to focus on selling our products locally for our customer's benefit.
We have lots of future projects that we are trying to gradually fund with the following modest farm offerings: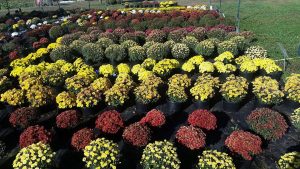 HARDY FALL MUMS-
We are growing natural season, hardy fall mums on our farm that are for sale starting in September. We take wholesale mums orders until May 1st. Our mum colors and varieties aren't like the mums you see in stores, we focus on the unique colors and varieties but we also have traditional colors available. We sell mums to customers at our fall open house events as well as to florists, garden centers, hardware stores and more. Contact us for more info about our mums.
HANDMADE GOAT MILK SOAP-
We hand milk our herd of dairy goats and create luxurious, preservative free soaps from their milk. We make lots of scent variations and build up our stock when the milk is plentiful in the spring and summer. Our goat milk soap is available to order online in addition to at our market table locations throughout the year.
FARM FRESH EGGS-
We have USDA inspected, farm fresh, pasture raised eggs for sale all year that come from our happy hens. We offer chicken, duck and sometimes turkey eggs for sale.
SUMMER PRODUCE SHARES-
In the Summer of 2015 we launched our family's first Summer Produce Shares via our CSA (Community Supported Agriculture) program. Our CSA program secures you a weekly basket of seasonal produce (for 12 or 16 weeks), that we've grown specifically for you. Each year we've been able to expand our availability to serve more customers. For now, our CSA services Southern Illinois, Paducah, KY and surrounding areas. Read more about our CSA offerings here.
#supportlocal #vote #illinoisfarm #firstgeneration #localfood #eatlocal
---